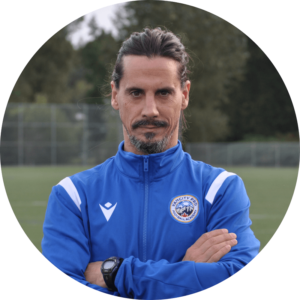 Vicente arrived in Vancouver after he finished a long-term career as a soccer player in Spain.
Vicente started playing in the Spanish First Division U19 class, playing against world-class teams such as F.C. Barcelona and Real Madrid. He then became a semi-professional soccer player with over ten years of experience. Upon his retirement as an active player, he obtained the Spanish highest level of coaching license, recognized by the Real Spanish Football Federation since December 2016.
Vicente comes from a soccer culture and family, nurtured since a very young age. His passion and love for soccer and comprehensive knowledge in techniques and tactics, along with kind-hearted and fun personality, make him an ideal coach for young athletes.