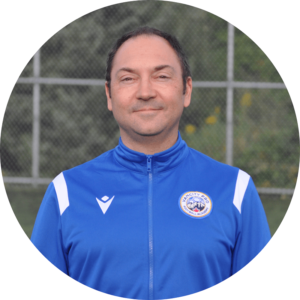 Meet John Bellini, a passionate and dedicated Soccer Coach at the Vancity Pro Football Academy. With a focus on player development and a love for the sport, John has been coaching since 2015 and has made a name for himself as a coach who truly cares about the growth and success of his players. With a "student of the game" mentality, John is always looking for ways to improve his coaching methods and bring out the best in his players.
John holds certifications in "Learn to Train," "Fundamentals," and "Active Start," and is currently pursuing a C-Licence Coaching Certification.
John was a hands-on contributor of the coaching staff for a group of U13 boys who brought home gold from the 2012 BC Provincials. With two children who also play soccer, the sport is a big part of John's life and he takes great pride in watching his players progress through their own soccer journeys.
At Vancity Pro Football Academy, John is a valuable asset, bringing his enthusiasm and expertise to each and every coaching session.